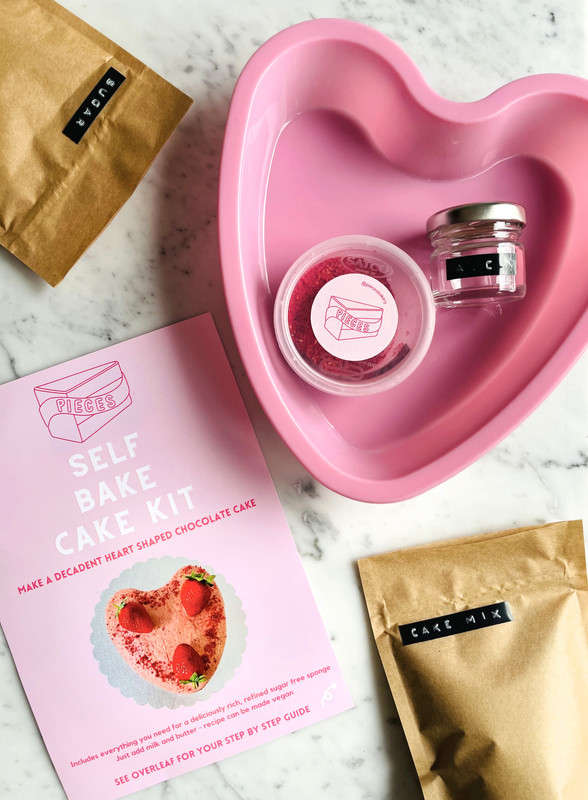 I try to use organic ingredients as much as possible in my recipes.
Here are the main ingredients I use in my cakes and baking kits:
Organic Plain Flour -

Organic plain flour is my go to as it works best in cake and cookie recipes. I do also use spelt and rye flour when I am looking for more of a nutty flavour.
Organic Fruit & Veg -
I use fruit and veg where I can in my cakes, mostly because they help keep the sponge deliciously moist but they also allow for less sugar to be added as things like apples, beetroot and carrot are naturally sweet. But don't be alarmed you'd never know they were in there!
Organic Vegan Butter -
I use Naturli butter in my buttercream as this is the most natural vegan buttercream that I have come across which tastes just as good as dairy based butter. I flavour buttercream with fruits and natural powders such as matcha or freeze dried raspberries as much as I can.
Organic Oat Milk -
I use oat milk in place of dairy milk as oats have a higher level of dietary fibre, and a high fibre diet is linked to gut health and overall wellbeing. Oats also use 80% less land to grow than dairy milk and of all the plants turned into milk, oats generally use the least water. Accordingly to a study conducted by Oatly the production of oat milk results in 80% lower green house gas emissions and 60% less energy use compared to cows milk.
Olive Oil -
This is my go to butter substitution when baking cake sponges, not only does it give a subtle fruity flavour but it also has lots of heart healthy benefits and antioxidants.
Organic Coconut Sugar -
I use fairly traded unrefined sugar such as coconut sugar, which is a natural sugar that comes from coconut palm sap. Refined sugar such as white sugar is striped of all nutrients during the refining process. It has a high GI of 65 which gives our body a blood sugar spike, affects our mood and leaves us craving more. Coconut sugar has a much lower GI of 35 which is closer to the GI found in fruit which is around the 25 mark. Coconut sugar also retains some of the nutrients found in the coconut palm, most notable are minerals iron, zinc, calcium and potassium, along with some short-chain fatty acids like polyphenols and antioxidants. Please note I am not trying to fool you, with all sugars, whether they offer low GI or micronutrients, I believe moderation and using the best quality possible is key. In my recipes I also use much less sugar where I can, and you'd never notice.
Organic Apple Cider Vinegar -
When combined with baking powder this helps sponges rise and makes them all lovely and fluffy. Despite being sour apple cider vinegar is actually alkalising in the body.
Organic Linseeds (Flaxseeds) -
These are an excellent binder that act like an egg in baked goods. They also have lots of nutrients in them.
Organic Chia Seeds -
These are also great for binding and contain healthy fats such as omega 3. They help to bind fruit or berries together in place of sugar to create jam.