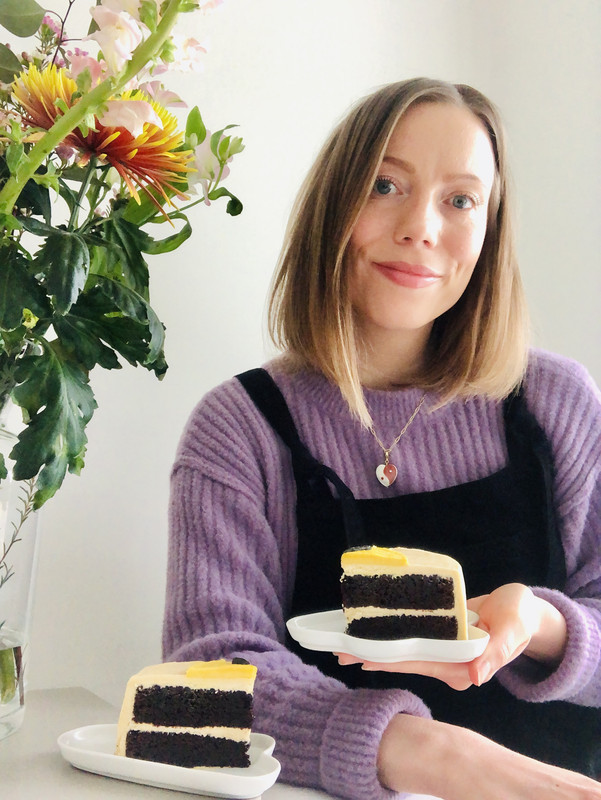 Hello and welcome to Pieces, a bakery I (Laura) started dreaming up during the first lockdown when I was in search of aesthetically pleasing cakes with a focus on more environmentally friendly ingredients.
Let me tell you a bit about myself. My professional background is in fashion, well-being and food, so naturally I wanted to combine these things at Pieces. After spending 6 years designing clothes I transitioned into food and began my recipe development journey. Food was always my thing really, having grown up in a household where no dinner was complete without a traditional British pudding (apple pie, jam roly poly anyone!?)... I unsurprisingly developed a seriously sweet tooth, but I always felt guilty eating too much sugar. Then I studied naturopathy nutrition which is about eating whole and organic foods for health and well-being… and I thought surely a dessert with less or unrefined sugar, and possibly some health benefits would be a win win!? Enter Pieces Bakery ;)
Pieces is about creating cakes which are not only delicious but are also made with ingredients that are friendlier to the environment. Although I am not vegan myself, I try to minimise the amount of dairy and eggs I eat for health and environmental reasons. I also prefer to use unrefined, fairly traded sugar in place of refined sugar, and I am a big advocator of organic ingredients. Not only are they kinder to the birds, bees and nature (as minimal pesticides are used), studies also show that organic ingredients retain more of their nutrients, which is great for us nutritionally (see the Soil Association and The Organic Trade Board for details on this). You can find out more about the substitutions and ingredients I use on my ingredients page.
Prior to dreaming up recipes for Pieces, I worked as a recipe developer, creating recipes for brands including Holland & Barrett, Morrisons, Riverford and Planet Organic. My most recent role led me to a bakery, creating healthier sweet baking recipes for a Tesco brief. This role was unfortunately made redundant in the midst of lockdown so I decided that maybe it was time to go out on my own! I love nothing more than creating cakes - so I really hope you enjoy my cakes as much as I enjoy making them :)
Pieces is located in Barton Le Clay, near Luton, Bedfordshire which is a short train ride from London (for collection and delivery purposes).